Careernomics started as an integrated careers platform, focused on helping Masters students and alumni explore and identify the right career opportunities. Following increased demand, we have extended our services, while maintaining a high level of quality, to include Bachelorís students and alumni.
We help you:
Increase your value proposition to students, international and domestic, through our tailored experience for each of them
Support their career goals by suggesting new jobs, programs or companies that are relevant to them
Easily identify and share opportunities that match your studentsí profiles and preferences
Manage your students' activity, and analyze it to better understand their needs
Jobs Directory
Multiply the quality and relevant jobs you offer to your students.

Our Jobs Directory contains over one hundred thousand jobs, worldwide, which are rigorously filtered and tailored specifically for Masters and Bachelors.

We help students more accurately target the right jobs for them, matching their degree, for both Masters and Bachelors, as well as their years of experience. Whether for a Bachelorís in Engineering with no previous work experience, or a Masters in Management with 3 years of work experience, we've got them covered.

You will also receive monthly suggestions of high-level, relevant jobs, through both our newsletter, as well as on your School Dashboard, which you can share with students in one easy click.

Our purpose: Help you bring relevant jobs and opportunities to your students, including those outside of the usual scope.
120'000+ Jobs

Sep, 30
Sales Executive Fiber S1 Territory
Sales

AT&T
Sep, 30
Algorithm Calibration Engineer Entry
Engineering & Sciences

Continental Corporation

Sep, 30
Sales Associate
Sales

Rogers Communications
700+ Programs

Marketing Excellence Program, Graduate Experience
Job Overview About AT&T At AT&T weíre redefining the future of connectivity. At our core is a passion...
Sales and Marketing
Global Technology Software Engineer - Industrial Placement Analyst
Our 12 month Industrial Placement (IP) Analyst program is designed to offer you a broad and exciting...
Engineering

Morningstar Development Program for Technologists
We built the Morningstar Development Program for Technologists to evolve recent college graduates and...
Technology
Development Programs
Give your students access to the only global directory of all relevant development programs.

Development Programs have a major ongoing development component, where candidates go through rotations and various assignments with the primary objective being the development of the individual.

We capture a wide range of development programs for Master's and Bachelor's students, both Full-Time and Internships.

We offer a broad spectrum of programs, from entry level Summer Internship Program, to something more long-term like a Full-Time Program post-graduation. For Bachelor's students, with no experience, all the way up to Masters Students with a few years of experience, covering multiple focus areas, like Engineering, Law, or Finance to name just a few.

You will also receive monthly suggestions of recently opened or newly added programs, for both internship and full-time programs, through our newsletter, which you can share with your students.

Our purpose: Provide you with a one-of-a-kind directory of development programs, all researched and curated by hand to help you save time.
Employers Directory
IdentifyIdentify and gain insights on relevant employers.

Our Employers Directory contains over 1500 of the top employers who are actively hiring Master's and Bachelor students and is continuously growing with new employers added based on student interest and market trends.

Students can explore up to date, relevant information on employers, while also discovering new employers that match their criteria but werenít on their radar.

You and your students can stay up to date on the latest company news, financials, culture, development programs, recruitment process and recruiting activity. The more you explore, the better your understanding will be about a given employer, its competitors, and the industry as a whole.

In addition, students will also gain access to our Industry Reports, where they can deep-dive over 40 industries with up-to-date news, top employers, jobs and programs.

Our purpose: Help you broaden the scope of companies available to your students and aid them in deep diving relevant information.
Country Guides
Our new Country Guides build on our own research and proprietary data, valuable partnerships like the one with Hofstede Insights, the culture expert company, and the best-in-class and most reliable sources to address questions like:
Where are the job opportunities by industry and top employers?
What are the typical salaries and gender wage gaps?
What is the cost of living and level of taxation?
What are the various work authorizations and visas?
What is the quality of the healthcare and how safe is the country?
What are the business customs and what is the culture like?
Not only are they a great resource for students who have international aspirations, but can also serve as a tool to help you in assisting with any questions or queries they may have in those areas.

Our purpose: To keep you informed, about both your country, and any foreign countries of interest, so you can make the right decision regarding opportunities abroad.
Usage & Statistics
Through your School Dashboard you will have access to advanced statistics, which you can filter by cohort or manage individual student's activity.

You will also receive quarterly School Reports, containing a summary of usage, and help you keep a finger on the pulse to stay up to date with relevant activity. Moreover, you will have access to a selection of the latest jobs that we recommend for your students, which can be shared directly from the dashboard.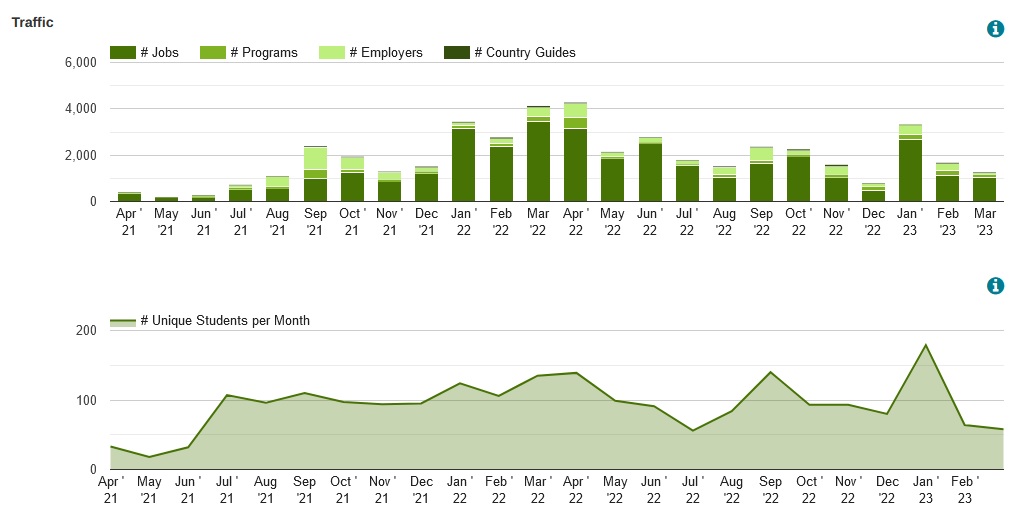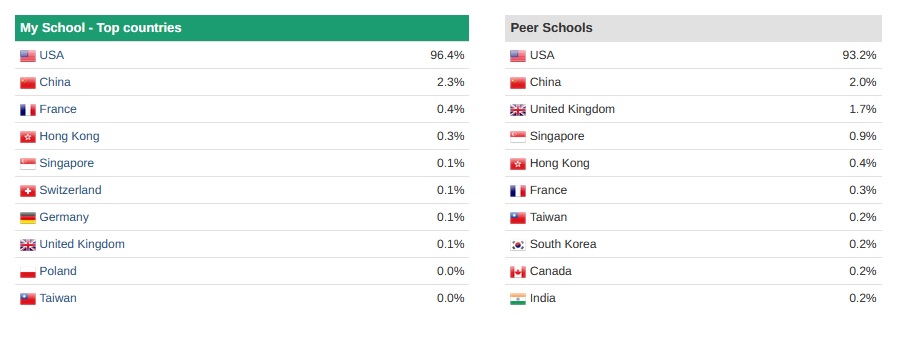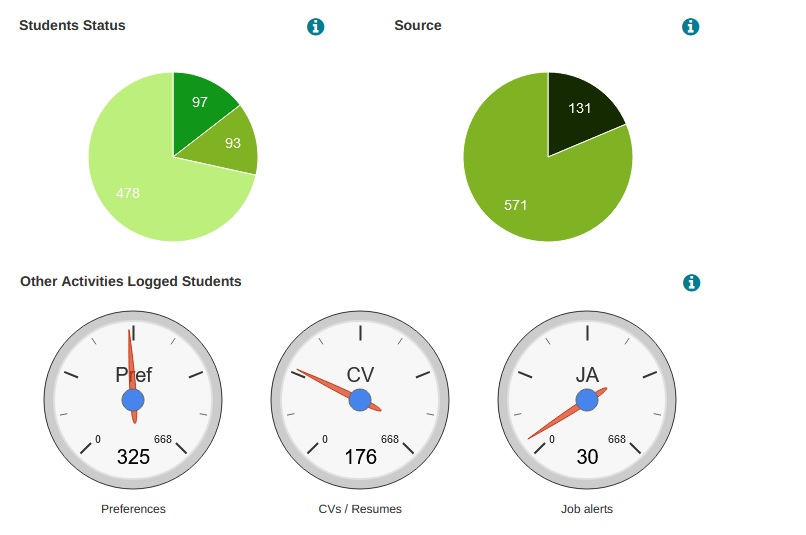 What is Hot In Consulting
Oct. 2, 2023
Thinking of joining a consultancy after business school? Then learn what's in store for you, the advice you'll be giving, and the skills you'll need. Consultancy Careers Strategist Don Leslie talks about the work of consulting firms in the next few ...
Register

Johnson & Johnson PLDP Virtual Event
Oct. 4, 2023
The Johnson & Johnson Procurement Leadership Development Program (PLDP) offers aspiring procurement professionals the opportunity to do meaningful work at a Company with unmatched impact and scale....
Register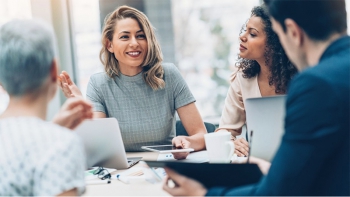 Events
Participate in our events, from our LDP Forum to Employer Dedicated Recruiting Events, as well as career-related educational Talent Talks.

Throughout the year we organize informational and recruiting events. Students have the opportunity to attend large, formal presentations, or participate in smaller, informal meetups

We aim to help students explore fast-track career opportunities and gain real-time insights by interacting directly with speakers and recruiters from all around the world.

All Online Events
Development Programs Ranking
Each year, we publish a Ranking on Development Programs, based on student views

The 2023 report ranks 786 development programs between June 1, 2022 and May 30, 2023, based on student views. It is divided in several main sections with corresponding sub-rankings. Namely we have analyzed it as follows:
Global rankings
Top Development Programs by Industry
Top Development Programs by Business Area
Top Development Programs by School Location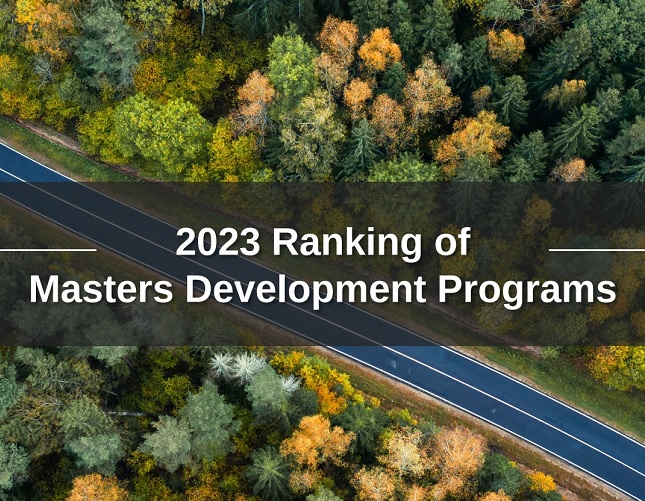 H1B Report
The primary beneficiaries of the H1B Sponsorships in the last few years have been STEM graduates, making it difficult to identify sponsorship opportunities for business profiles. With this in mind, we examined the US Department of Labor data identifying sponsors of business profiles, such as MBAs and other related Masters.

Take a look at our 2022 H1B Sponsorship Report (our fifth year running) and let us know what your think. Feel free to share it with your colleagues and reach out to us with any questions you might have.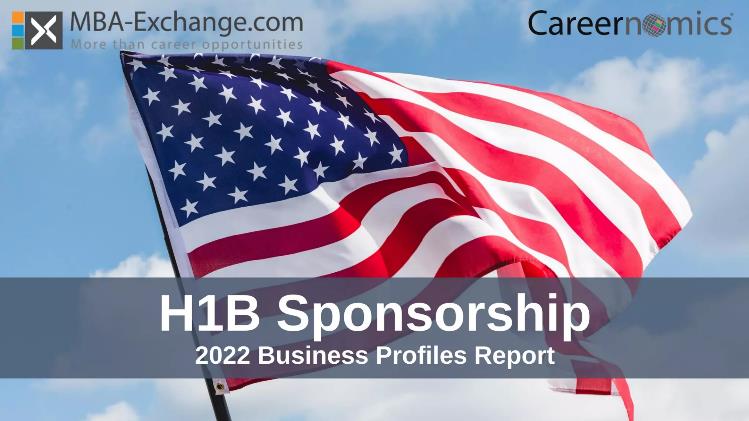 ---
Get Started with Careernomics.com Today