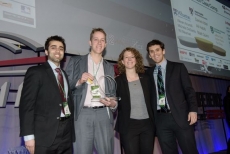 First Pitch Graduate Sports Business Case Competition
March 02, 2019
Every year, the MIT Sloan Sports Analytics Conference hosts the First Pitch Case Competition for top graduate students from around the globe who are attending the conference. The competition focuses on the evaluation and analysis of a major sports organization's most challenging issues, while providing a networking and educational platform for graduate students with sports career aspirations. In teams of three, students are tasked with analyzing provided data and recommending solutions for a challenging sports business issue. Three finalist teams are then selected to present in front of an open audience at the conference. Previous years cases have been developed in conjunction with Ticketmaster, Zebra Technologies, MLB Advanced Media, the NFL, and AECOM. This year's competition looks to help Eventellect and the Jacksonville Jaguars evaluate a hypothetical revenue increasing opportunity for NFL teams.
Description
Eligibility:

Teams must consist of three (3) current students from the same graduate program. All team members must be registered and have paid for the MIT Sloan Sports Analytics Conference at the time of registering for First Pitch. There will be no additional fee to participate in First Pitch.

Officiating:

The opening round judging will be "program-blind" (i.e. judges will not know the school of each team). Presentations must not reveal graduate program other than on introduction and/or conclusion slides. Judging will be scored using the following:
- Presentation - 30 points
- Thoughtfulness/thoroughness of response - 50 points
- Creativity - 20 points
The evaluation of the top three teams will be done by a panel of industry experts chosen by the Sloan Sports Analytics Conference organizers. The officials will evaluate each team's analytical ability, decision-making, creativity, and thoughtfulness of recommendations, as well as the actual delivery. The officials reserve the right to determine the winning team and the rankings of the teams to follow.

2015 Outcome

1st Place - Harvard Business School
2nd Place - The Wharton School
3rd Place - Tuck School of Business
Prize
Each of the top three teams will receive a prize determined by the Sloan Sports Analytics Conference organizers and sponsoring company. Any team that withdraws or is disqualified from the competition will not be entitled to any prizes.