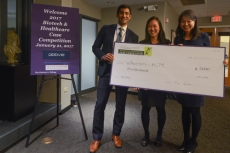 Kellogg Biotech & Healthcare Case Competition
January 28, 2023
It is the biggest business school case competition with the longest history in the healthcare space, sponsored in recent years by the biopharmaceutical company AbbVie, that brings together MBA-student teams from business schools nationwide.
Description
The 2023 Kellogg Healthcare and Biotech Case Competition will be held on January 28 at the Kellogg Global Hub in Evanston, Illinois. Teams from business schools around the world are invited to apply for the event. You can access the application here.

Now in its 20th year, the competition is one of the oldest and most prestigious case competitions in the world. Teams can win $5,000. In most years, more than 60 teams from around the world take part in the event. The 2023 competition is sponsored by Moderna.

There is no cost to apply. Teams can be 3, 4, 5, or 6 students. All team members must be enrolled graduate students (full-time and part-time programs are both okay). At least two team members must be enrolled in an MBA program. Teams are expected to cover the cost of travel.

Applications are due on December 9 by 5 pm CST. Ten to twelve teams will be invited to the in-person final round in Evanston. Teams will be notified by December 16. Finalist teams will receive the case on January 20.

Each year the competition focuses on a complex healthcare issue. In 2022 the topic was the launch of Leqvio, a new cholesterol-lowering medication from Novartis. Teams had to evaluate the planned launch, come up with a forecast and consider if Novartis had applied lessons from the disappointing launches of two previous cholesterol-lowering medications, Repatha and Praluent. The topic of this year's case will be released in early January.

While the event was virtual in 2021, the 2023 event is expected to be completely in-person.