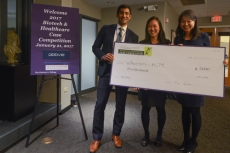 Kellogg Biotech & Healthcare Case Competition
January 01, 2023
It is the biggest business school case competition with the longest history in the healthcare space, sponsored in recent years by the biopharmaceutical company AbbVie, that brings together MBA-student teams from business schools nationwide.
Description
2022 Kellogg Healthcare Case Competition

The 19th annual Kellogg Healthcare and Biotech Case Competition was a tough battle. Eleven teams from nine top business schools competed, and eight judges questioned the teams and evaluated the recommendations.

The topic this year: the launch of Leqvio, a new cholesterol-lowering medication from Novartis. Teams had to evaluate the planned launch, come up with a forecast and consider if Novartis had applied lessons from the disappointing launches of two previous cholesterol-lowering medications, Repatha and Praluent.

The 2022 competition was sponsored by Moderna.

The $5,000 top prize went to a team from Wharton: David Mui, Lauren Gardanier, Zaid Malhees, Shang Wang and Shubham Chatterjee. Northwestern's Kellogg School of Management captured second prize: John Kim, Abbey Austin, Forrest Yeakley, Rachel Yen and Swarun Kulasekaran. Third prize went to a team from Tuck School of Business, and a second team from Kellogg captured honorable mention.

Other teams participating were from Chicago Booth, Berkeley Haas, Georgetown McDonough, Michigan Ross, McMaster DeGroote and Columbia.

This year's event was largely in-person, with a few presenters joining by Zoom.

Information on the 20th annual event in January 2023 will be available in September.