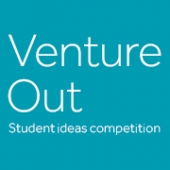 Venture Out - Masood Enterprise Centre

Venture Out - Students Ideas Competition Now into its 15th year, Venture Out is Masood Enterprise Centre's annual student ideas competition. If you have an idea for a new business, a social project, the application of technology, or something completely different - we want to know about it.
Description
If you're an undergraduate or postgraduate student here at The University of Manchester and have an idea, then you could get your hands on one of 15 cash prizes! With five categories in total – Business, Creative, Environmental, Social, and Technology – the ideas you enter are limited only by your imagination.

4 categories to compete in:
- Business: For ideas that have commercial potential via new products or services.
- Social: For ideas that improve the lives and social wellbeing of people and communities.
- Digital: For ideas that apply digital technologies to generate new experiences and innovative business opportunities.
- Research: For ideas that focus on the application of University-based research to real-world problems.

Enter as an individual or a team of up to six members.
Organizer
Alliance Manchester Business School
Prize
1st: £300
2nd: £150
3rd: £50