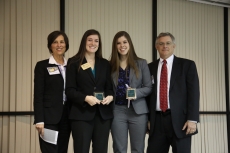 Baylor Business Ethics Case Competition
March 29, 2019
To advance the development of ethical leaders through experiential learning and to recognize and promote MBA students and their programs for participation in a national case competition in ethical leadership.
Description
Teams
- Teams will be segmented into leagues.
- There will be three leagues in the competition. Each league consists of 5 teams.
- Each team consists of 4 or 5 undergraduate Baylor business students.

Competition Procedures

- To qualify for participation, teams will be selected during the in-class portion of the competition.

Professors will submit his/her chosen team by March 20th.
- Student teams will receive an expanded case Wednesday, March 27th, at the Competition Launch in the Paul L. Foster - Campus for Business and Innovation Conference Rooms 143 & 144, 4:00pm. Dr Pepper floats will be provided along with materials and instructions.
- Each team member must print and complete the forms below. Team members must turn in these completed forms at the competition launch.
- W9 Form with Baylor ID number written at bottom
- Photo/Video Release Form
- No outside help or coaching will be permitted after the case is distributed.
- Student teams will present the case and their recommendations in a formal business presentation, including PowerPoint, Friday afternoon, March 29th, from 1:20 - 5:00pm.
- Each team will have 20 minutes to present and 10 minutes to answer questions.
- Teams will be randomly assigned time slots and rooms.
- No handouts or props will be distributed or used.
Prize
- $500 prize will be awarded to the First Place Team in each league.
- Additional awards for Best Presenter and Best Q/A will be awarded in each league.
- Winners will be announced during the week following the competition.